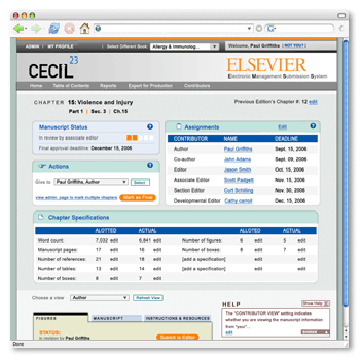 Introduction
In 2007, we gave birth to a 10.6 lb textbook which was the result of the work of hundreds of individuals authors, editors, and production teams and the deployment of a web-based manuscript submission system which was originally proposed, developed and launched by myself and a team of 2 Cambridge MA-based developers. Given the revolutionary changes in the publishing business over the past 5 years, this 3000 page textbook is now likely serving as a booster seat or doorstop for thousands of medical students across the globe, but the system launched to build this edition using web-based technologies fueled my desire to create communities to build knowledge and collaboration in science and medicine. Even with a tiny experiment like this by comparison.
History
The Cecil Textbook of Medicine, whose first edition was published in 1927 by Cornell University Medical College Professor Russell Cecil was entering its 23rd edition. By 2004, Cecil had expanded in size and scope over the course of its 22 editions. By 2004, nine editors and over 500 authors now contributed to the work which in its development phases relied on email, postal mail, and offline tools to track a flurry of hundreds of chapters and thousands of images and graphics. There was no consistent communication or tracking about due dates or chapter requirements and authors had no access to the Table of Contents and no way of identifying each other for collaboration. As a result the 22nd Edition was published one year late (2004). The publisher remained hesitant to adopt a new solution despite their growing demands on authors and editors.
Strategy
I led a voluntary effort at Mass General that inspired the development of the Cecil Manuscript Submission System (CMSS), a website to host and manage all files and communications for the production of the 23rd Edition of the Cecil Textbook of Medicine. The first minimum viable product (MVP) was built by a team of three at Mass General.
Features
Provide the ability to manage, track and review chapters submissions and high-resolution images;
Manage page and image counts;
The interface doesn't overwhelm users with options, instead exposing actionable items as they are needed;
Authors get a much-simplified workflow, with actionable items grouped on a single landing page;
The author interface requires little training from editors;
For all end users, the application provides contextual help with step-by-step instructions.
Solution
The CMSS was used as the first solution for Elsevier's textbook business. Today, Elsevier uses the technology in it's Electronic Manuscript Submission System to run submissions for over 40,000 contributors in more than 60 countries for over 1800 textbooks.