As I conclude a four-year term (2016-2020) as a Human Innovation Fellow (HIF) at the Lab at OPM, I've had the privilege to work at the intersection of design and government across federal agencies.
General Services Administration
Technology Transformation Service Centers of Excellence COVID-19 FAQ (2020)
Built to support the US cross-agency Coronavirus Task Force, faq.coronavirus.gov is intended to be an accessible, searchable, and user-friendly knowledgebase of frequently asked questions and answers and supplements content on Coronavirus.gov, the White House's official information source for the public. Because the pandemic has impacted so many aspects of people's lives, we needed a body of content that could addresses the diverse needs of the public in clear and actionable ways. While task force agencies publish their own COVID-19-related content on Agency websites, they worked with us to develop a single plain-language resource that serves the needs of diverse audiences.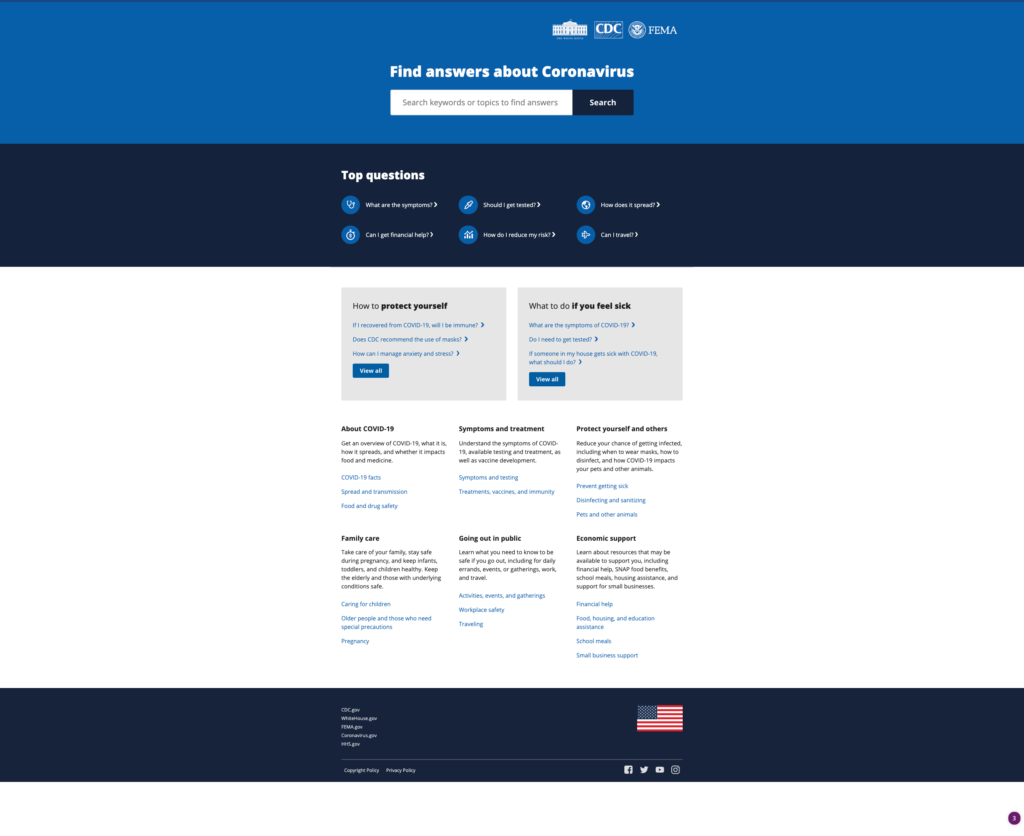 Role: Content lead, coordinating and implementing contributions from COVID-19 Task Force Agencies.
Responsibilities: Content strategy, writing, editing, coordination.
Approaches: Usability testing, card sorting, tree testing, non-directed interviews, directed interviews (in person and remote), search analytics and reporting.
Veterans Administration (2016-2019)
As part of the VA's first agency-wide effort to embed design within a sprawling organization of almost 400K employees, I worked as a content and design strategist in the newly-established (2015) Veterans Experience Office (VEO). Working closely with career civil servants, I supported a broad portfolio of efforts to better understand Veterans' needs and perspectives, to build effective and impactful services across the organization.
VA.gov Health Facility Replatform (2018-2019)
On detail with the United States Digital Service's (USDS) VA arm (DSVA), I led the development of VA's new enterprise-wide public facing health services taxonomy. After the success of VA.gov's relaunch in 2018, VA health care facilities also needed to modernize their digital footprint. Early efforts and successes on VA.gov ensured that Veterans were at the center of our efforts, as we expanded to facilities.
 

Landing page for VA Pittsburgh

 

Based on interviews with facility publishing stakeholders, we proposed a vision for the future.
Role: Lead, health content and taxonomy.
Approaches: Usability testing, card sorting, tree testing, non-directed interviews, directed interviews (in person and remote).
Relevant Work:
Patient Experience (2016-2017)
With 170 medical centers and 1093 outpatient clinics, the Veterans Health Administration is by far the largest integrated health care system in the country. Like any health care organization, VHA is driven by performance metrics that reveal the experience of Veterans through quantitative data. Working in partnership with VHA, the VEO team set out to qualitatively understand the healthcare experiences of Veterans by talking with them at length. We conducted hundreds of interviews with VA patients across the country and developed a set of experience principles, tools and practices meant to amplify the voices of Veterans across VHA programs and services.
Design research approaches: Ethnographic interviews, non-directed interviews, directed interviews, card sorting.
Role: Led field research efforts across 2 of 9 interview sites, worked with contract support (Deloitte/Doblin) on drafting final deliverables (Journey Map and Report), led efforts to create outpatient surveys.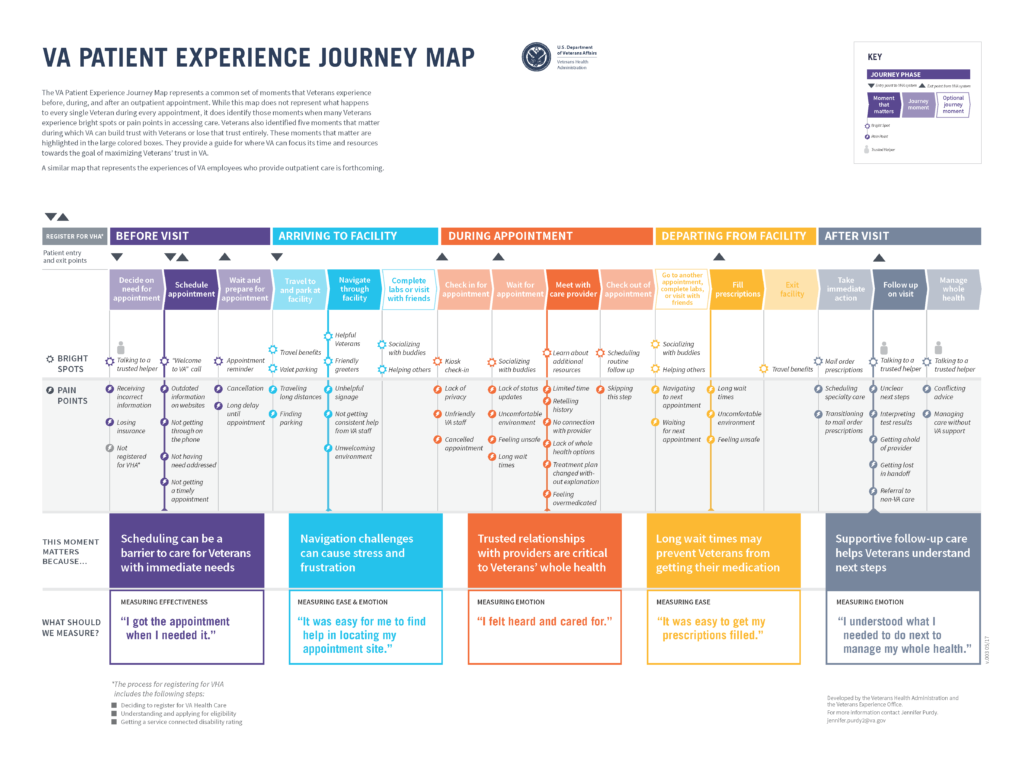 Ethical Principles around Veteran Health Data (2018)
Knowing that there are robust efforts, policies and practices across VA that address Veteran health information, I worked with the VA's National Center for Ethics in Health Care and the DoD/VA Interagency Program Office to build on these important frameworks. Through human-centered design approaches, I led an effort to gather individual Veteran perspectives to improve VA's understanding of Veteran preferences in how VA handles their health information.
Report: Exploring Veterans' Perspectives of their VA Health Data
General Services Administration (GSA) Office of Customer Experience (2017)
GSA has a broad mandate and manages real estate, acquisition, technology, and other mission-support services across the federal government. To accomplish this, GSA procures a variety of digital tools. In 2017, I worked with GSA's chief customer officer to conduct an audit of gsa.gov. We focused on GSA's transactional websites to prepare recommendations for an improved digital strategy, for those doing business with and for the government.
Deliverables: GSA.gov Findings and Analysis (Google Slides)
Display of GSA Transactional Sites Audit